Iceland is famous all over the world for the breathtaking beauty of its dramatic natural landscapes. In the country known as the land of Fire and Ice, mammoth glaciers, rushing waterfalls, explosive volcanoes, eerie ice caves, haunting glacier lagoons, bubbling hot springs, and narrow fjords all take center stage. The island also possesses some of the best volcanic beaches in the world. Perhaps the most famous black sand beach in Iceland is Reynisfjara, a major tourist attraction along Iceland's South Coast. It's a must do for travelers who visit Iceland and take a road trip around the country's Ring Road.
Iceland's Breathtaking Beaches
Iceland is an island, and as such, it is surrounded by coastline. They come in many different varieties. There are pebble beaches like Djúpalónssandur on Snaefellsnes peninsula. It's known as the black pearl lava beach because of the large amount of black volcanic pebbles. You'll also find pink and red sand beaches in Iceland, like Rauðasandur in the Westfjords. But the most well-known shore in Iceland is the famous black sand beach that you'll find in the south. The hexagonal basalt columns and volcanic rock formations make Reynisfjara beach on Iceland's South Coast an iconic destination.
What Causes Black Sand Beaches in Iceland
Because black sand beaches are so unusual, many people wonder what causes them. It all comes down to volcanic activity. Places like Iceland and Hawaii that are located along fire belts have volcanoes that have been exploding thousands of years. The blackened lava that is the result of volcanic eruptions breaks down through erosion and causes onyx-colored particles of sand to settle on the shoreline. What you see along Iceland's South Coast is the results of millennia of geological activity.
Reynisfjara – The Famous Black Sand Beach in Iceland
When you decide to go camping in Iceland, you absolutely have to make a stop at Reynisfjara beach near Vik. It's not only the most famous black sand beach in Iceland, but its unique geological features also make it one of the most stunning beaches in the world.  In addition to the midnight-hued volcanic sand, the columnar jointing of the rock formations and hexagonal basalt columns are also out of this world.
It's no wonder that the hit HBO series Game of Thrones chose this black sand beach in Iceland as a shooting location. The show's supernatural locales mean that Iceland is ideally suited to provide the perfect backdrop for some of the shows more dramatic scenes. From Eastwatch-by-the-Sea to cast members walking along the shores, Iceland is a prominent part of the show.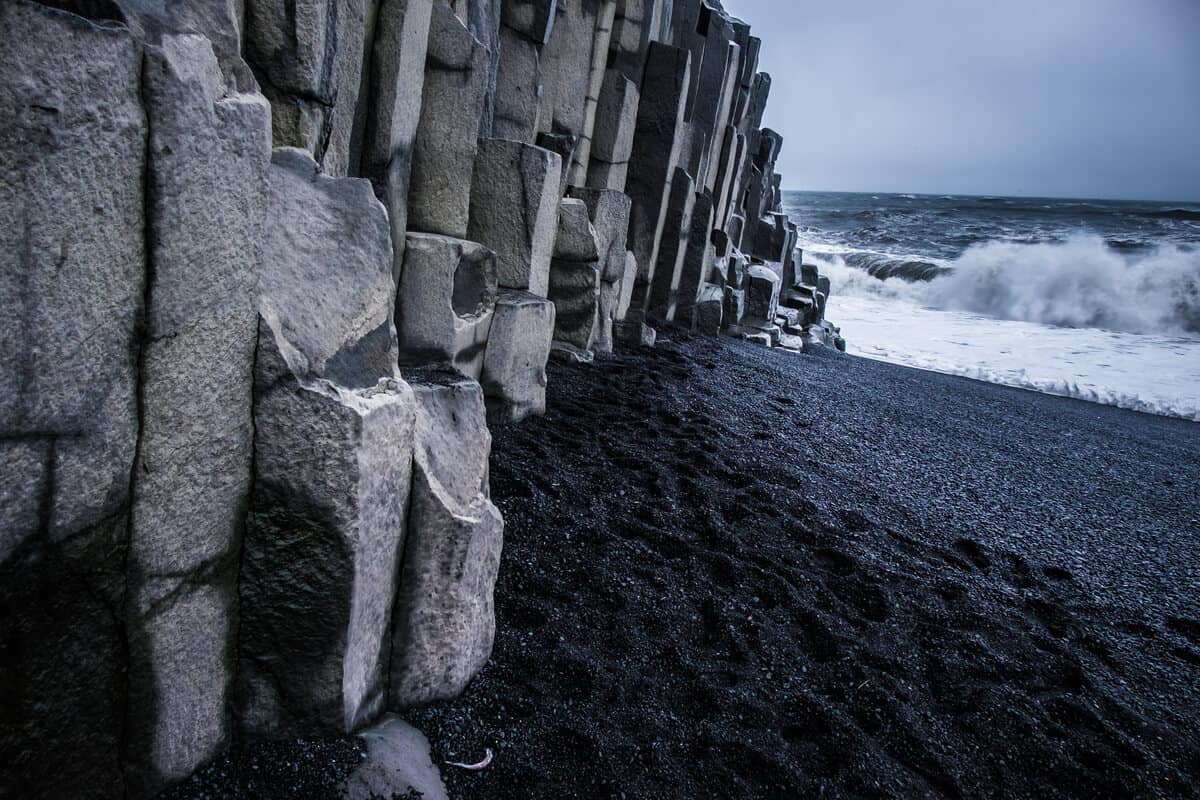 Safety at Iceland's Black Sand Beach
But a visit to Iceland black sand beach isn't all about selfies or getting that perfect Game of Thrones picture for Instagram. Something you may not be aware of is the hidden dangers of sneaker waves. These treacherous waves are especially perilous because they come up quite fast and can catch you by surprise. Be sure to keep a safe distance from the waterline if you don't want to get pulled out to sea. And don't underestimate the hazard posed by these sneaker waves. There have been multiple tragic accidents in which unsuspecting tourists lost their lives on Iceland beaches by getting caught and pulled deep into the water.
Sólheimasandur – The Black Sand Beach in Iceland with a Plane Wreck
This beach is located close to the Ring Road when driving between Reykjavik and Vik.  It makes an excellent detour. If you're here during the right season, you can even see the Northern Lights illuminating the haunting sight. The Sólheimasandur plane wreck on another famous black sand beach in Iceland is an unforgettable image. You definitely need to plan ahead if you're going to visit this site. The lonely plane's fuselage is about a 30 to 45 minutes trek from the parking lot where you leave your car. Unfortunately, due to damage to the fragile ecosystem surrounding the area, you can no longer drive up to the plane wreck site with your vehicle.
Things to Do: Black Sand Beaches in Iceland
There are many natural wonders on the island to discover when you visit Iceland. One of the most memorable experiences during your road trip will no doubt be exploring the black sand beaches in Iceland along the country's South Coast. Whether it's the plane wreck at Sólheimasandur beach or the rock formations and hexagonal basalt columns at Reynisjara black sand beach close to Vik. You're guaranteed to see something spectacular.
Iceland has some of the stunning, most beautiful beaches in the world. You'll find few places on our planet that possess the natural, haunting beauty of Iceland's South Coast. Be sure to make time during your Iceland road trip to enjoy this special corner of the globe. And of course, practice safety and keep a safe distance from the water. We don't want any sneaker waves coming up and disturbing your otherwise perfect holiday.