Glaciers, ice caves, and black sand beaches seem to get all the attention here in Iceland. While waterfalls don't entirely fall by the wayside, they undoubtedly don't receive the attention they deserve. Waterfalls in Iceland can range from the utterly serene to the massively powerful. I prefer to stray away from rapids like Dettifoss, which resides in the latter category. Let's take a look at one of the most tranquil, heavenly and beautiful waterfalls in Iceland: Godafoss Waterfall.
Godafoss Falls
As I previously mentioned, Dettifoss waterfalls can elicit an overwhelming sense of raw power. Watching the water crash down into the earth at a feverish pace can make your heart ache. But, lets table Dettifoss for now and talk about his much more relaxing little brother to the west. Godafoss is situated about 100 km west of Dettifoss falls in Northeast Iceland. They are naturally stunning and have an exciting history. Godafoss is arguably the most beautiful waterfall in all of Iceland.
Its name roughly translates into English as "The Waterfall of the Gods." There are two schools of thought behind the name: one being aesthetic, and one being historical. The aesthetically driven theory is quite simple: it is a divine looking waterfall. It wouldn't be difficult to imagine a pantheon of Norse Gods situated around the horseshoe-shaped waterfall. If you have never seen it, give it a quick Google search. It is sublime.
The second theory behind the name comes from Iceland's early history. There is a myth that a famous and prominent holy man made a trip to the falls. He did so after he declared himself to having been converted to Christianity in the year 999. Once at the falls, in an act symbolic conversion to Christianity, he tossed his statues of the old Norse gods into the waterfall. Conclusively, physically showing his conversion. Whether the story is based in truth or not, doesn't matter, it is a compelling myth.
Features of the Godafoss Falls
We will never know the truth behind the name of Godafoss falls, but one thing is sure: the waterfall is gorgeous. Water careens off a 30-meter wide horseshoe-shaped rock face. The river that feeds the falls can vary in depth and height, but when the river is at its peak, it can actually create other smaller waterfalls that surround this Icelandic gem. Once the water reaches the craggy rock cul de sac it facades down 17 meters into another river inlet. The best time to come and visit is in late spring and early summer.
If you are a photo fanatic, then this location should be high up on your photo wish list. Godafoss falls is emblematic of Iceland as a whole. The serene yet otherworldly quality to this location definitely screams Iceland. Make sure your camera batteries or smartphone are charged for this stop because your Instagram followers will never be more jealous than when they see photos from this location.
Getting To The Godafoss Falls
As is the case with many of Iceland's natural attractions, Godafoss falls is very accessible by car. If you plan to take the Ring Road around Iceland, you are in luck because the falls are situated right off Ring Road 1. I would say be on the lookout for signage, but given the density of the signs informing you of the falls location, you'll find it easy to locate.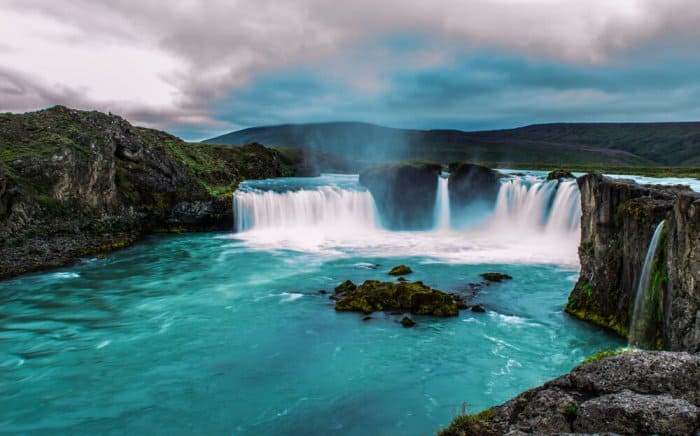 Iceland's Spectacular Godafoss Waterfall
It can be hard to decide which locations in Iceland to visit given the fact that there are so many exciting places to visit (I know, tough life, right?). However, if you either find yourself in the northeast of Iceland or if you are traversing the Ring Road then you must take a visit to these tranquil waters. Don't forget to take a few moments to take in the pure beauty this location has to offer. Watching the water spill into the river below is one of the more relaxing, and Icelandic, things you can do during your stay here. Happy waterfall watching!