Bathing culture is prevalent in Iceland. Our small, volcanic island has been blessed with geothermal activity, and a land covered with hot springs is the result. When you come to Iceland, you'll probably hear people talking about the best hot pots and thinking that maybe they're some type of typical Icelandic dish. Hot pots are actually what we call the naturally heated hot springs and swimming pools where were we like to take a dip. Some are medium to large man-made structures and others are just little holes in the ground. Iceland is filled with them, from the famed tourist attraction the Blue Lagoon near Reykjavik to the "secret" Landbrotalaug geothermal pool. This intimate hot pot on the Snaefellsness peninsula is so small that it only fits two or three people. So where are the best hot pots and geothermal springs in Iceland? I've compiled a list of my favorites.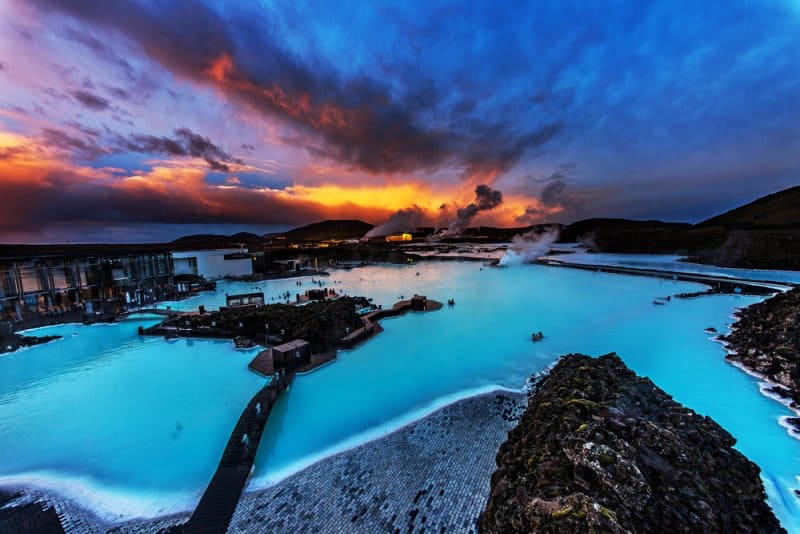 Blue Lagoon Geothermal Spa
This is probably the most famous hot pot in Iceland. In fact, it's probably one of the most frequented sites on the island. Open all year round, this geothermal spa makes for the perfect, relaxing day out. The steaming hot, silica-infused waters are not only purifying and healing, but they'll probably also be one of the highlights of your trip. Pack your swimsuit and a towel and remember your bathing etiquette.
Mývatn Nature Baths
These baths are the answer to the oftentimes crowded Blue Lagoon. Located on the Diamond Circle route, the Mývatn Nature Baths are another great geothermal pool option. When visiting northeast Iceland, be sure to stop by and splash your feet. Remember, the same do's and don'ts apply as with any other pools. You'll need to shower naked to get really clean.
Secret Lagoon Hot Spring
While the name is quite fun and implies an adventurous hot pot treasure hunt, the Secret Lagoon really isn't that secret. While driving around South Iceland, make your way here if you happen to be close to the Golden Circle route. This geothermal pool in the tiny village of Fluðir has been around since 1891. Of particular note is the small geyser that erupts every five minutes or so.
Landbrotalaug Hidden Hot Pot
If you enjoy hot spring hunting, then this is just the hot pot for you. You'll find this tiny hot spring in a remote field behind an abandoned farm in Snaefellsnes peninsula. Drive following Route 55 from the farm where you park for Eldborg crater. Turn right onto Snaefellsnesvegur (Route 54) and continue for 1.2 km (¾ of a mile). The drive is about 10 minutes total. After parking your car, it will take a little bit of a search to find. And be forewarned: you probably won't be the only one seeking it out. Your best time to go it early in the morning or later in the day.
Hofsós Hot Pot
The hot pool at Hofsós is simplistic yet beautiful. It's a bit of an Icelandic infinity pool with magnificent views looking out towards the fjords in North Iceland. This is a wonderful stop if you happen to make your way up north.
Drangsnes Hot Pot
My last favorite Icelandic hot pot is located in the town of Drangsnes in the Westfjords. This tiny destination features a warm bathing pool fit for a small group of people. Much like Hofsós it also has incredible views. Hop in, put your feet up, and float around while taking in magnificent landscapes.
Iceland's 6 Top Hot Pots and Hot Springs
Hopefully, this list of top Icelandic hot pots will get you started. There are literally hundreds that dot the entire country, so check out a longer list here at the Outdoor Swimming Society website. Pack your swimsuit and get ready to jump on in!