You have just spent the night either in Vík or somewhere in the surrounding region. You are bright-eyed, bushy-tailed and ready to go out and tackle the next portion of your Ring Road adventure through Iceland. Southern Iceland has some must-see locations you should visit before making your way up north and eventually back west. Now that you have the first day under your belt, let's talk about days 2, 3, and 4 of your 7-day Ring Road itinerary.
7-day Ring Road itinerary: Day 2 – First Stop Vík
As I previously mentioned, I recommend staying in or around the village of Vík at the end of the first day of your trip through southern Iceland. Not only is the town picturesque and quaint, but it will serve as a great location to set off from while you explore the truly captivating destinations in the surrounding area. Vík is a fishing village with about 300 or so permanent residents. It may not seem like much on paper. However, waking up to the towering mountains and cliffs that surround Vík while the sunrise pierces through the foggy bay, will leave you with a sense of wonder and adventure as you begin your second day of travel. Make yourself a hearty meal, because you have a long day ahead of you. After you enjoy a big breakfast and a hot cup of coffee make your way to Reynisfara beach to visit Iceland's very own "Giant's Causeway".
Day 2- Reynisfara Beach
Vík and surrounding areas are famous around the globe for their otherworldly black sand beaches. Long stretches of onyx coastline coat the shoreline here in southern Iceland, and if it is your first time on a beach like this, you are liable to have your mind blown. Volcanic activity causes the sand to take on an inky quality, and it is the perfect opportunity to take a priceless photo to remember your trip to Iceland. The real gem of this beach though lies in its spectacular stone columns. Surrounding the coastline are hexagonal stone spires that reach upwards towards the heaven in a perplexing geometric fashion. Its hard to imagine nature naturally creating something mathematically precise as this; the columns look more laser cut than organically made. Nonetheless, come to the beach for your early morning start and be amazed at all that nature has to offer.
After you are done, head back towards Vík. Stock up on snacks and fuel. From here you are going to make your way to the Svínafellsjökull glacier.
Day 2- Svínafellsjökull Glacier
To get to Svínafellsjökull, stay on Route 1 for roughly 150 km (240 miles). You will see turn off signs telling you where to exit to see the next stop on our list. It should take you roughly 2 hours to get here, so make sure that you have plenty of killer road trip tunes lined up as you make your way east. I recommend Led Zeppelin for early morning Icelandic drives; I have always found the scale and grandeur of their songs match that of Iceland's unbridled landscape.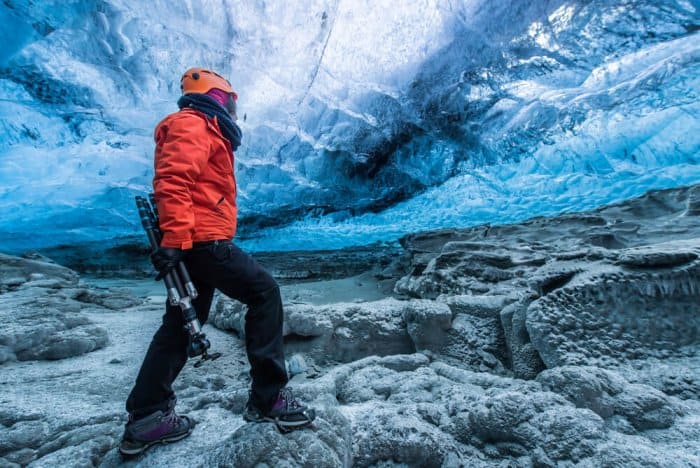 Svínafellsjökull is renowned for its natural beauty and breathtaking views. This glacier reserve may seem familiar when you first see it. Ever heard of the popular HBO series Game of Thrones? This is where the production crew filmed most of the incredible action sequences in the series' seventh season for battles taking place north of the wall. This area is excellent for a quick morning hike. In the fall and winter, the glacier truly comes alive as the frozen hunks of ice take on exceptional visual qualities. Make sure you have your camera charged for this stop, as you are not going to want to miss the striking, blue glacier fields that cover this area of Iceland. This will be the first of two glacier centric stops for your exciting second day on the Ring Road. Hop back in the car. Next stops on our 7-day Ring Road itinerary: The Jökulsárlón Glacier Lagoon and Diamond Beach
Day 2- Jökulsárlón Glacier Lagoon
Continue on Route 1 for another hour, and you will eventually run into the world famous Jökulsárlón Glacier Lagoon. This bay is formed from glacier-fed water and is littered with massive icebergs. Typically, this bay is also filled with an abundance of seals and Icelandic seabirds. Once here you can either take a boat tour and get up close with nature, or you can walk around the edge of this captivating lagoon. At the edge of the pool, there is a small inlet that feeds directly into the Atlantic Ocean. It is here that you will see the main attraction of your second-day road tripping around Iceland, our crown jewel: the Diamond Beach.
Day 2- Diamond Beach
At the edges of the Jökulsárlón Glacier Lagoon, there is a stretch of black sand beach that is unlike anything else you will ever see in your entire life. Remember how I was telling you that the lagoon was filled with icebergs? Those icebergs are actually fragments of the glacier that have broken off and now aimlessly float in the bay. The tide eventually pulls them out into the open ocean, and they continue their solitary journey across the sea. That is if they are lucky. The not-so-fortunate pieces of ice get battered around the beach and eventually wash back ashore. This creates the otherworldly effect of making it seems like the beach is covered with diamonds.
Diamond Beach
Glaciers are unique, in that their oxygen content is much lower than regular ice. But why is that? Heavy snowfall compacts on top of glaciers and eventually becomes a part of the glacier itself. While this process is occurring, the oxygen gets squeezed out of the ice. This, in turn, means the ice takes on an incredible hue. Chunks of ice on the beach can range from crystal clear to robins egg blue. Stroll down the asphalt black coastline and marvel at the fragments of frosty ice that blanket the beach. I guarantee that you will not be disappointed. There is a good reason we call this stretch of beach the crown jewel of Iceland. Today will be a big picture day (let's be honest though: when is any day in Iceland not the perfect day to take photos?), so make sure to keep those cameras charged.
From here set out towards the eastern fjords. From here on use your discretion when stopping at little villages and rest stops along the way. Along the way, there are also plenty of craggy cliffs and peaks to watch some inquisitive puffins. Puffins for me are incredibly interesting. You will notice, if you have the opportunity to watch them for long enough, puffins take on their own little personalities. You are going to want to push through towards the village of Egilsstaðir. It is roughly a three-hour drive so make sure to use the facilities before you head back out on the open road. Plan your accommodation accordingly. If you are camping, be sure to investigate the nearest campsite in the area, or research either Airbnb or a local bed and breakfast.
7-day Ring Road itinerary: Day 3
Setting out from Egilsstaðir you will want to head north for roughly 2 hours. Route 1 will eventually split off into Route 864. From there, follow the signs for Dettifoss falls, because you are on your way to seeing Europe's most powerful waterfall.
Day 3- Dettifoss
A sense of uneasiness may rush over you as you stand near the edge of the Dettifoss waterfall. Don't fret, this is a normal feeling. Dettifoss has a way of making its visitors feel puny. This is the most powerful waterfall in all of Iceland, and subsequently all of Europe. Water rushes at breakneck speeds towards the edge of the falls and pounds into the waters below. I love visiting Dettifoss because it makes you realize how powerful mother nature is. While this waterfall may make some anxious, it also does a fantastic job of waking you up and preparing you to head out on another day of adventure through Iceland. Once you have had your fill of watching this Icelandic aquatic behemoth, head back down south (roughly an hour's drive) to visit the Hverir Geothermal Area.
Day 3 – Hverir Geothermal Area
Once you get back on Route 864, it will merge back into Route 1 and take you west. Again, as with every attraction in Iceland, you can't miss the turnoff signs. Just keep your eyes peeled for the Hverir Geothermal Area. The drive is scenic and will only take you about an hour to finish.
The Hverir Geothermal Area is a special and unique location in Iceland, but, a word to the wise: this place doesn't smell so great. Sulfur naturally occurs here in vast quantities, and if you know how pungent sulfur can be, then you have a good idea of the smell. Be prepared before going in. Also, pro-tip, wear your best pair of boots when making this stop. It can be quite muddy and messy if you aren't prepared. Once you have caught your breath, it will be time to head back out to your third stop: Godafoss Waterfalls.
Day 3 – Godafoss Waterfall
If you didn't notice, Iceland is filled with stunning waterfalls. The next waterfall on your itinerary is the polar opposite of its big brother Dettifoss; while Dettifoss is Iceland's most powerful waterfall, Godafoss is one of our most beautiful. Continue to head west on Route 1 for roughly 45 minutes, and you will start to see signage for Godafoss falls. Pull off, park, and be amazed.
Godafoss translates from Icelandic into English as "Waterfall of the Gods," and it is well-deserving of its title. In Iceland, there are two schools of thought regarding the origin of this waterfall's name. The first being that when ancient Icelanders first saw the rapids, they were so captivated by its beauty they thought it was fit for the ancient Norse gods. But, I find the second theory much more interesting.
It is said that when ancient lawmaker and well-known Icelander, Thorgeir Ljosvetningagodi, famously renounced the old Norse gods and converted to Christianity he threw his statues of the Norse gods into the falls, as a literal demonstration of his conversion. Religious implications aside, I find this fascinating. To think of all the history that has taken place on the edges of this captivating waterfall stimulates the mind. Come and relax by the tranquil waters of Iceland's most heavenly rapids. Then, get ready to drive to your final stop on day three of your Icelandic ring road, road trip: Akureyri.
Day 3 – Final Stop, Akureyri
If you continue west, you will eventually run into Iceland's second largest city, Akureyri. Iceland's unofficial capital of the North has a lively food and beverage scene, and it is the perfect place to recharge your batteries after a long third day on the Ring Road. Finding accommodation here should be easy, regardless of if you are camping or staying the night in the city. The city has a ton of culture and history, and I highly advise researching it before you come. Get some rest, and get ready for a big fourth day on the open road as you head west across northern Iceland.
7-day Ring Road itinerary: Day 4 – Snaefellsnes Peninsula
Once you have refueled on food and gas, it will be time for a long stretch of driving. But, it will be worth it; this next destination is arguably one of the most unique locations in Iceland: The Snaefellsnes Peninsula. You are going to want to continue west on Route 1, till it breaks off into Route 54. This will take you about five or so hours. There are plenty of places to pull of along this stretch of northern Iceland; whether it is a tiny village or a scenic rest area, this stretch of land will captivate your imagination.
Snaefellsnes Peninsula
I recommend that you make sure you have your bathing suit ready for day 4 because there is a pretty cool stop along the way. If you have the urge to swim, or just need a break from raking up those Icelandic miles, make sure to stop at the famous Sundlaugin á Hofsósi swimming pool. It may be too cold to swim here, but it is an interesting stop to see nonetheless. This pool was designed by the same architect as the blue lagoon, so you know it is going to be cool. Essentially it is a rectangular pool, like any other pool, except it is an infinity pool that appears to disappear into the North Atlantic.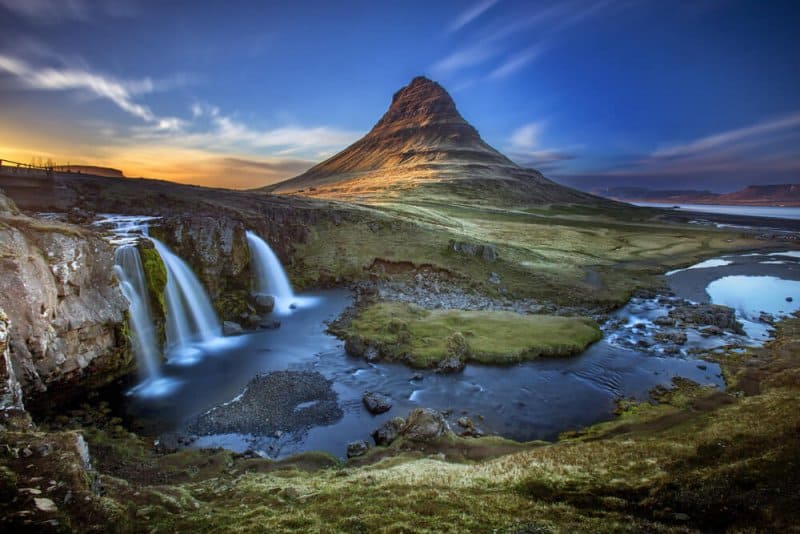 Now, depending on when you arrive, you have two options. You can set off to see some of the sites situated in the Snaefellsnes Peninsula, or you can try and get some rest. I recommend the latter. There are plenty of camping areas along this stretch of highway, or for those who need a break from roughing it, it there are a few Airbnb options. Whatever you do, make sure you get some rest, because day five of your Ring Road journey is going to be an action-packed adventure (also, definitely charge your camera!)
7-day Ring Road Itinerary Part 2
I will see you all back here tomorrow, for the last leg of your 7-day Ring Road itinerary. The last two days are sure to be action-packed, and hopefully, you will have enough energy to continue. If you have any gems that you think I missed feel free to share in the comments.