Thinking about going camping in Iceland? If you decide to go, it will undoubtedly be one of the most memorable experiences of your life. The country is stunning, and camping is one of the best ways to experience all of its wonders. The black sand beaches of Vík, the stunning Seljalandsfoss waterfall, the Jökulsárlón Glacier Lagoon in Vatnjökull National Park, and much more await you. Camping in Iceland should definitely be on your bucket list if it isn't already. Traveling around the island's Ring Road on an Iceland road trip is the adventure of a lifetime. If you choose to experience Iceland by camping, there are some things you need to know. Everything from the weather and climate to the different types of camping in Iceland will impact your trip.  Let's look at some tips to make sure you have a fantastic time.
#1 Be prepared for the weather
I know what you're thinking. Weather? Really? But I'm not just making boring small talk or idle chit-chat. The weather is serious business in Iceland. Words that immediately come to mind are: extreme, unpredictable, harsh, inhospitable, destructive, etc. I think you get the picture. And not only do we get snow storms, hail storms, wind storms, ash storms, and sandstorms, it's also incredibly windy here. That one actually surprises a lot of people. While most days the wind varies from mild to strong, we have been known to get Category 4 hurricane force winds during extremely powerful storms. Yikes!
Not only that, but it changes suddenly. You could be driving in the middle of a freak snowstorm and then 20 minutes later everything has cleared up and the sun is shining again. Or maybe one day will be clear and calm and the next day you are battling gale force winds. It truly is a bit like Russian Roulette. Or as Forrest Gump might say, a box of windy, stormy chocolates. You never know what you're going to get.
Now all of this is not to scare you away, I promise. I just want you to have a realistic picture of what might happen when you come here. Camping in Iceland is different than anywhere else in the world, and the weather plays a huge role. So even if you've gone camping in the wild, done mountain trekking, or even winter camping, nothing quite compares to what you will experience while camping in Iceland.
What Can I Do?
How can you best get ready for this cocktail of wild weather that you're sure to experience while camping in Iceland? Well, the first is to come prepared. Bring the right supplies such as an all-weather tent if you're tent camping. Waterproof clothing and footwear are a must. We've got a full list here. It's also important to check the weather forecast daily for whichever part of the country you plan on traveling to. This includes checking the wind forecast. You may need to arrive at your campsite in order to set up your tent earlier than you had planned. Lastly, have a backup plan. Should you choose to go tent camping in Iceland, if weather conditions get really bad, you may need to sleep in your car for the night.
Stay safe, use good judgement, and listen to that little voice in your head telling you that it's time to turn back. The weather in Iceland is crazy, but it's also thrilling. It definitely adds a unique flavor to your trip.
#2 Know What Type of Camping in Iceland You Want to Do
This is another one that surprises most people. When you think of camping, do you picture a tent set up in the middle of the woods, sleeping bags, and roasting marshmallows over a campfire? While this is one option, minus the campfire because it's illegal, there are actually several different ways to go camping in Iceland. Each one has its own particular features and benefits. It's up to you to decide which one fits best with your travel style, preferences, and budget.
Tent Camping in Iceland
Tent camping is the traditional style of camping. It's just you, your rental vehicle, and your tent out in the elements. Tent camping in Iceland is for the really hardcore campers. You need to make sure you've got an all-weather tent, high-quality insulating sleeping mats and tent floors, extremely warm sleeping bags, and as many waterproof items as you can get your hands on. I suggest renting your camping equipment in Iceland. Let the professionals at the camping equipment rental store in Reykjavik best advise you on everything that you'll need.
Campervan or Motorhome Rental in Iceland
These are actually two subcategories within the option of driving an RV around Iceland. Driving a motorhome or campervan are the two most popular ways people go camping in Iceland. And now that you know more about Iceland's climate and weather, I think you can understand why. Both options have their advantages and disadvantages for everything from price to ease of use to amenities. We've got some useful information here and here. Another budget option is simply sleeping in your car. It will get quite cold at night when car camping, however, so perhaps renting a heated camper is a better choice.
Wild Camping in Iceland
This is much less common than going to a campsite. With wild camping, you normally hike somewhere out in the woods or a nature reserve. It's similar to tent camping, except you have to trek with all of your camping equipment on your back. Due to Iceland's wild weather, this type of camping isn't done by the typical traveler. It's usually for experienced, adventure campers looking for an extreme camping experience.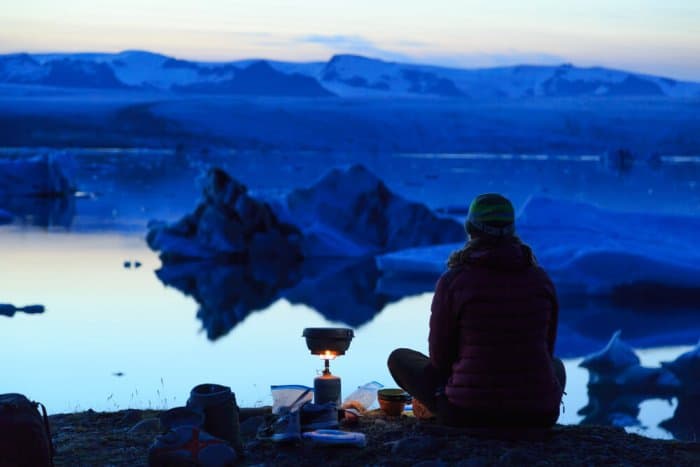 Know What to Expect While You're There
These pieces of advice fall under the category of "I wish someone had told me that"! Here are a few things that first timers camping in Iceland should know.
#3 Showering at Campsites
You'll find showers with hot water at many campsites in Iceland but not all of them. Depending on the campground you stay at, there might be cold water or no showers at all. And be prepared to pay to use the shower facilities. Even though credit and debit cards are accepted everywhere, you need to also bring coins with you for the showers. You may also have to pay for electricity. And as a non camping-related tip, make sure you have your PIN if you plan on using a credit card. Most people only know the one for their debit cards. If you don't know your credit card PIN, call your credit card company before boarding your plane. The machines in Iceland only accept cards with PINs.
#4 No Campfires Allowed
I know, this is a hard one. I can see your Iceland camping dreams going up in smoke, and I feel your pain. Who doesn't look forward to foraging for a stick and roasting marshmallows over an open fire to make s'mores? But alas, it's illegal to build a campfire in Iceland. This is done to protect the ecosystem as it is quite fragile. Burning things on the ground causes a great deal of damage, and it takes many years to grow back. If you plan on cooking or roasting anything, you will need to do it using the grills provided by the campsites. You can also use the gas stove in your campervan or motorhome. If you're tent camping, I recommend using a portable camping stove. You can rent these from your car, campervan, or motorhome rental company. Whatever you do, please don't start any fires outside of the grill.
#5 Plan Your Gas Station Stops in Advance
Outside of Reykjavik, there are many parts of Iceland that are not highly populated. This means that while camping and driving around Iceland's Ring Road, you will frequently find yourself in deserted or remote areas. It's wonderful to have these open stretches of road. It also means that you won't have a gas station or supermarket every few miles or kilometers. So you need to plan. Look at your route and know where the next closest gas station is (and the one after that). The last thing you want on your Iceland road trip is for the reading on the gas tank to hit E and for you to be stranded in the middle of nowhere.
#6 Stock Up On Food
You also don't want to get hungry. Food shopping opportunities can be few and far between out on the road. They may not even have a grocery store in every town or village you pass through. Stock up with way more food than you think you need so you don't run out of provisions.  My advice is to leave time in Reykjavik at the beginning of your trip to go food shopping. Bónus is the discount supermarket in Iceland. Grab non-perishables like pasta and rice and canned foods like soup or baked beans. Healthy snacks like apples, nuts, and dried fruit will also help you along the way.
The water in Iceland is safe to drink, so there's no need to buy a lot of bottled water at the supermarket. It's good to have a few bottles in the car but don't overdo it. Just bring or buy a reusable water bottle and fill up from the tap when you stop.
Top 6 Tips for Camping in Iceland (Weather, Packing, Planning, Safety)
I want you to be safe and have fun during your Iceland camping trip (and I'm sure you do too). Hopefully, you'll follow these tips and have an enjoyable adventure. If you'd like more comprehensive information, feel free to check out our Ultimate Guide to Camping in Iceland. We cover everything from campsites in Iceland to the Iceland camping card to what to what clothing pack and wear and more. Let us know if you have any questions and happy camping!