Camping in Iceland is a popular way to get up close and personal with the country's natural beauty. Not only that, but you'll also spend less money than if you stayed in a hotel. An important thing to know about Iceland camping trips is that they are nothing like anything you've experienced anywhere else. The country's unique weather conditions and geology provide new and unique challenges. Everything from the tent you choose to the camping equipment you bring will have an impact on your trip and your budget. There's a wide variety of tent choices. Factors like capacity, seasonality, weight, and livability all play a role in which tent will best meet your needs. Let's break down all the things you should consider when choosing the best tent for camping in Iceland.
First Tent Factor to Consider: Seasonality
This is probably the one that trips people up most when they come to Iceland's to camp. Most people are used to camping trips back home, where they can use a summer tent or otherwise relatively flimsy model. That definitely will not work in Iceland. You'll want to opt for a 4-season tent because you never know what the weather will throw at you. Travelers have experienced snow storms in June, and it's best to be prepared with a sturdy, solid tent. While a three-season tent can handle light snow and heavy downpours, it's possible that you will experience worse conditions.
Winter tents and all season tents are much more suitable for the fierce winds, substantial snowfall, or harsh storms you might encounter. The engineers design them to withstand heavy snow loads and fierce winds. These types of tents usually have more poles and sturdier fabrics as compared to 3-season tents. The rounded dome is better for dealing with wind gusts, and there's no flat surface for snow to collect on the roof. The rainflys usually go close to the ground. You usually also have the option of covering the breathable mesh panels with zip fabric panels.
One downside of using an all-season tent is lack of ventilation. That means it can get a little stuffy in milder temperatures. But Iceland usually only gets to the high 50s F (15 ºC) in the summer, so this isn't really much of an issue.
Second Tent Factor to Consider: Tent Livability
You'll be spending quite a bit of time inside your tent, so you'll want to make sure it's as "liveable" as possible. Spending time inside of a cramped tent isn't anyone's idea of a good time. You'll want to have plenty of room. Whenever visiting a camping equipment store, ask to try out different possibilities. Step inside to see how it feels. Make sure that you've got plenty of headroom floor space. If you were facing a bad storm, which tent feels heavyweight enough to face the storm, and at the same time won't give you claustrophobia?
Some specs to consider:
Floor plan and floor dimensions. How is the tent laid out and what are the measurements for length and width?

Peak ceiling height. This is important to keep in mind so you don't bump your head.
Wall shape. Obviously, tents with more vertical walls will seem more spacious than ones whose walls meet in a point. There's a tradeoff with a tent being able to hold the weight of snow (and angling more towards the ceiling) and a more open interior.
Ventilation. Make sure your tent has adequate mesh windows or panels that can help prevent condensation buildup inside the tent. Adjustable rainfly vents and rainfly doors that roll up can also help.
Other Tent Factors to Consider: Weight and Capacity
If you are going tent camping, you'll also want to keep in mind the weight of your tent. If you find yourself hiking to your resting spot for the night, the last thing you want is to be weighed down by a bulky, heavy tent. And of course, take the number of campers into account. There is no standard for tent size with regards to the number of people in your party. If you want extra space, go for a tent one size larger. That is, if you've got three people, then buy a four-person tent.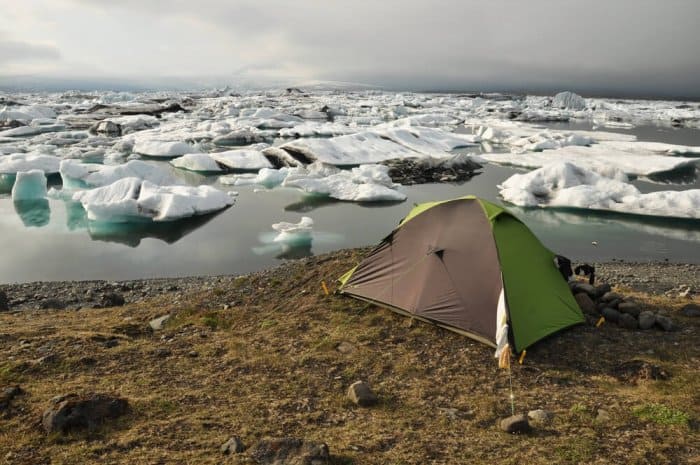 A Word About Reykjavik's Camping Equipment Rental Stores

If you decide to go camping in Iceland, another big question, besides the right tent, is whether or not you should bring your own equipment or rent it in Reykjavik. I actually recommend renting your camping gear in Iceland. It's an extremely popular option and for that reason, there are several stores in Iceland's capital. In addition, the staff of camping equipment rental stores in Reykjavik is extremely knowledgeable and helpful. They know their country better than anyone else and can explain exactly what's needed to face the island's elements. You'll be making important gear rental decisions. Let the experts help you.

How to Choose the Best Tent for Camping in Iceland

The perfect tent for Iceland consists of a host of factors. While certain things are universal, like choosing an all-season tent, other specs depend on exactly what your needs are. Good luck in making your decision. And remember, ask the experts at the camping equipment rental stores in Reykjavik. They're there to help! If you'd like to learn more about camping in Iceland, be sure to check out our multi-part Ultimate Iceland Camping Guide. Happy trails!