Taking a road trip around Iceland in a campervan is one of the best things you will ever do. Not only will you make tons of memories during this trip of a lifetime, but you'll also see some of the most breathtaking landscapes and natural wonders on our planet. Traveling around Iceland in a camper gets you out into nature and will no doubt stoke your sense of adventure. So where to begin with planning? You'll need to know the best campervan companies in Iceland, what to see and do on your itinerary, and even figure out the best time of year to visit. It's not too difficult to organize your trip; you just need to know where to start! Let's take a look at all the logistics and things to examine when planning a camper road trip in Iceland. Consider this your step-by-step guide.
The First Question To Ask Yourself: What is The Best Month to Go to Iceland?
This is the first and most important question to ask yourself. Everything else about your trip, from itinerary and activities to campervan rental prices and budget, will change depending upon the time of year you decide to go. A 10-day trip to Iceland in August is much different than a trip lasting the same amount of days in November. People who visit at various times of the year almost feel like they're visiting two completely different countries. I always like to say that there is no "best time" to visit Iceland. It all depends upon your travel preferences, what you're interested in, and the things you'd like to do.
For example, a hiker would never come in October or November because hiking season has ended. Access to Landmannalaugar and its F-roads are closed, so in their case, it's better to visit in the summer. A different traveler who's really keen to see the Northern Lights will want to visit between mid-September in mid-March. As a general rule, the lights aren't really visible outside of this time period. If glacier hikes and exploring glacier caves and ice caves really excite you, I would recommend coming during the winter or the colder season. Take a look at all of the different activities available and places in Iceland you can go. From there, it will be much easier to set your sightseeing priorities for the trip.
Another Thing To Consider: Prices and Budget
Something very closely tied to the time of year that you visit Iceland is your budget. The small island is notoriously expensive. If you're looking to save money, perhaps visiting during shoulder season (September to November and March to May) or off-season (December to February) is a better choice for you. The throngs of summer tourists have left, and prices are lower on everything from camper rental to food. With the high season over, tour operators and establishments that cater to the tourism industry will be doing their best to attract customers with low prices. Every month and every season has its own advantages and disadvantages. A big perk of traveling outside of the summer is that you avoid summer prices.
The Second Question To Ask Yourself: What is My Perfect Iceland Itinerary?
Now that you've decided on the best time of year to go, you want to pick your itinerary. Again, this is different for everyone. Some people have a short five days to cram in as much as they possibly can. Others are able to take much longer holidays. I know someone who rented a motorhome and just spent a month driving around the island. This is quite a luxurious vacation, and I realize that most of our blog readers, especially the ones based in the United States, simply don't have that amount of vacation time. A more typical trip to Iceland consists of a 7-day itinerary. Those who have a little more time will choose a 10-day itinerary.  
We wrote an article what the highlights other things most tourists in Iceland visit. You can view it here and read more descriptions. 
List of Iceland Highlights
Below is the Reader's Digest version in the form of a bulleted list as a reference. Some of the items listed, especially the Diamond Circle and the Golden Circle, have many different points of interest within them.
The Capital City of Reykjavik

The Golden Circle Route

The Blue Lagoon Geothermal Spa

Seljalandsfoss and Skógafoss Waterfalls

The Wrecked DC-3 Plane on Sólheimasandur Black Sand Beach

The Town of Vik and its Environs

Landmannalaugar and the Laugavegur Trail

Vatnajökull National Park and Glaciers

Jökulsárlón Glacier Lagoon and Diamond Beach

The East Fjords

The Diamond Circle Route – 12 sights and natural attractions including Lake Myvatn, Godafoss Waterfall, Hverir Geothermal Area, and more

The Whale Watching Town of Húsavik

The City of Akureyri, Dalvik, and North Iceland

The Westfjords

Snaefellsnes Peninsula – another collection of a dozen or so sights including Mt. Kirkjufell and Kirkjufellsfoss
This is by no means a comprehensive list but instead gives you a good idea of most of what there is to see and do in Iceland. Think of it as a starting point for planning your Iceland campervan road trip itinerary.
The Third Question To Ask Yourself: What Are The Best Campervan Rental Companies in Iceland?
Thanks to a robust and ever-growing tourism industry, Iceland has many reputable and well-established campervan rental companies. These businesses have been around for quite a while and have a long record outstanding customer service and satisfied clientele. We've written entire posts dedicated to the best car rental companies and best campervan rental companies in Iceland, which you can view here and here. If you just want some quick recommendations to get you started, here are our top five picks for  Iceland's best camper rental companies in no particular order.
Campervan Iceland: www.campervaniceland.com
Happy Campers: www.happycampers.is
Campervan Reykjavik: www.campervanreykjavik.com
Kúkú Campervans: www.kukucampers.is
Camper Rental Iceland: www.camperrentaliceland.com
These are our favorites. They've all got good word of mouth and excellent ratings on Google Reviews. Campers Reykjavik and Motorhome Iceland are also good companies. Of the dozens of campervan rental companies in Iceland, you're sure to have a positive experience with one of these. Having a quality rental can make or break your trip, so it's essential to rent a reliable vehicle from a company that cares about its customers. Take a look at all of the models and options they have available. Do you want a camper with an expandable roof tent? Peruse their websites to see what they offer.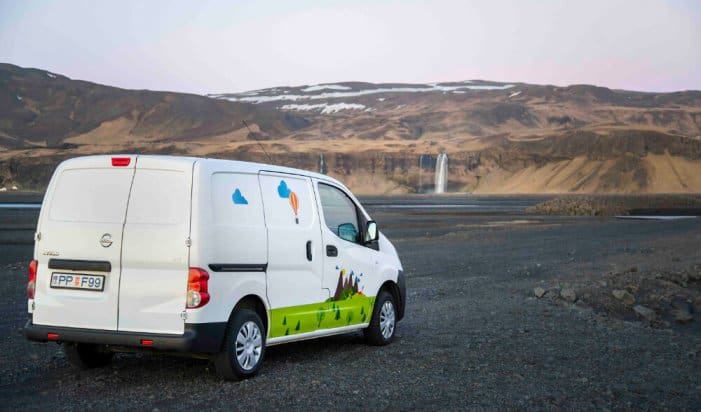 Planning a Camper Road Trip in Iceland
Hopefully, this guide to planning a camper road trip in Iceland is helpful to you. It's easy to feel overwhelmed or even unsure about where to start. Once you've made these key decisions, all you have to do is book everything, pack your suitcase, and you're on your way. One piece of advice that I have is to reserve things as far as advance as possible. Many travelers dream of coming to Iceland and taking a campervan road trip. People reserve their vehicles for the summer in October or November of the previous year. Don't be left out in the cold. Start planning now for your trip of a lifetime. And be sure to check out our Ultimate Camping Guide. It will answer all of your questions and tell you everything you need to know about camping in Iceland.